Six of Crows by Leigh Bardugo
The Six of Crows Duology by Leigh Bardugo is at a high right now, along with its sister trilogy, The Shadow and Bone Series. This is due to the new Netflix series based on these books. And the readers' community cannot be more excited. Who wouldn't be excited about seeing our charming yet deadly Kaz Brekker on screen!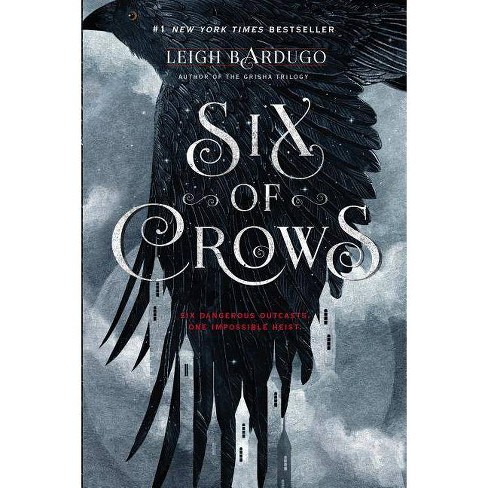 The Six of Crows duology consists of Six of Crows and its sequel The Crooked Kingdom. Let's get into this without further ado.
The Characters
1. Kaz Brekker
"A liar, a thief and utterly without conscience. But he'll keep to any deal you strike with him." Famously known as "Dirtyhands", Kaz is the mastermind. It's said that nothing is too bad for him to do. His iconic gloves and a crow-headed walking stick just add to his mysterious personality. Just because he has a crippled leg doesn't mean he can't show his enemies a bad time.
2. Inej Ghafa
"The only law that applied to her was gravity, and some days she defied that too". Known as the "Wraith", Inej is a Suli girl who acts as Kaz's informant. And probably the closest Kaz could come in trusting a person.
3. Nina Zenik
"We are all someone's monsters". The heartrender, the Grisha. She is beauty and power in one. Nina was all one wanted.
4. Matthias Helvar
"I have been made to protect you. Only in death will I be kept from this oath." He is the Fjerdan Druskelle. And now he is in prison. But he might not be as ready as expected to leave prison. But just maybe Dirtyhands and Nina can change his mind.
5. Jesper Fahey
"We learn to hold our heads as if we wear crowns." Jesper was the sharpshooter. And Kaz knew Jesper would never betray his group. His funny and charming personality is just cherry on the top.
6. Wylan Van Eck
"I feel like I'll never know enough." Wylan is our runaway. Yes, it is exactly how it sounds like. He ran away from home. And he just might be my favorite character. His growth throughout this is amazing. He is just precious.
The Plot- Kaz 's masterplan
When a dangerous drug, Jurda Parem is found, the merchant of Ketterdam relies on the city's most dangerous man to rescue the creator of the drug from a foreign land. But of course, Kaz wouldn't do it for free. After Kaz finally decides to go on this life-ending mission, he finds his crew. And he knew exactly who they would be. Once he manages to convince everyone, the journey to the Ice Castle begins. But it's not as smooth as they thought. With rival gangs following their tracks and each one of them fighting their own battles, the journey becomes much more difficult. But they also find a family in each other. But their trust just builds by the end. And in the end, well there's a perfect cliffhanger for the sequel.
Reasons why you should read about Kaz and his crew
The characters have amazing backstories.
The character's growth is brilliant.
Representation of diffrent cultures and sexulaities.
IT'S A HEIST!
Amazing Writing
The world-building is brilliant.
Check out our other reviews here.
Check out my Instagram post about Six of crows.